Grow Your Own!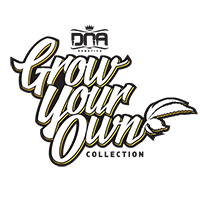 It's our pleasure to introduce the Grow Your Own seed bank to the Green Parrot store.
The Grow Your Own collection, developed by the experienced seed bank DNA Genetics is a line of seeds aimed at the connoisseur. The result is an exceptional seeds assortment which offers a wide variety of different strains with unique flavors and aromas.
Double Alien 18: The Double Alien 18 is a re-worked version of one of our underrated champions Martian Kush. We took a select pheno of our Martian Kush and backcrossed her into the champion maker herself, The OG #18. Double Alien 18 takes more of the Martian flavor out of this cross and adds an incredible amount of The OG #18 flavor. The growth structure will however resemble the MMG as Double Alien 18 grows shorter then all OG #18 hybrids and finishes with a rock hard full bud of OG with just the very subtle hint of MMG only to be found on the exhale. This super strong hybrid brings our 5-year project to a end. What was once thought to finish at Martian Kush continued to become the relentless future Champion Double Alien 18! This is what makes breeding so fun!
El Fuego: El Fuego (fire) is a special blend of varieties! This Strain is breed purely for its Resin profile. We have brought our most resinous offerings together to make El Fuego! Expect to see ultra resinous flowers that finish in 9 weeks! If your all about high yields of resin then these flowers are for you. If extracting resin is your specialty then The Fuego is the plant that not only will pay the bills but a plant with huge yields of great extract. Growing El Fuego is a easy task as she's a heavy eater and branches early in the vegetive stage. Perfect for mothering and clone production as well as works in SCROG and SOG systems. El Fuego is so Fire it'll make you slap your mamma!
Florida Gold: For the "Florida Gold" we took our clone only Jew Gold cut and combined her with our Florida OG Cut. What we saw from this epic cross was a 80% ratio of "keeper phenos". As we grew these seeds out the results were amazing "keeper" after "keeper." We haven't seen results like these in many years and instantly we knew we were on to something! We now bring you "Florida Gold" nothing more then our Florida Og clone to our Jew Gold Cut….. You do the selection, you pheno hunt, and you choose your Winners! A true champion!
Florida Lemons: Just when you thought we brought the best with the Florida OG we crossed her into our multi cup winning Lemon Skunk. The result is the big yielding Florida OG hybrid that has an over the top lemon aroma! What was once a lower yielder in Florida OG became above average with sick almost rotten lemon smell. The concentration of the lemon terpene is amazing, as the flavor stays somehow Kush! Fast flowering in 8 weeks max. and great resin production fast. The medicinal value is high as Florida Lemons will stimulate appetite, help sleep, as well as being strong enough for heavy pain suppression. Think clear, smell lemons with all that OG Kush flavor you've grown to love!
Florida OG: The one that started it all is here! Some call this Ocean Grown some call it Crippy and some Call it Florida OG! With great bag appeal and an odor you just cant get over, she's the Florida OG!! An all around great variety with everything we look for, for breeding: growth, structure, vigor, taste, smell, looks, and strength. Flowering in 9 weeks with average yields makes this a great strain for your head stash. Large Production yields can be challenging with the Florida OG but not impossible. Low yields are why there are so many Florida OG crosses. If you are after the classic or have grown an O.G. variation and only the original will do, then the Florida OG is for you!
Lemon Walker: Another terpene rich variety that we are bringing out is the Lemon Walker. Lemon Walker is a cross of our multi cup-winning cut of Lemon Skunk crossed to our multi cup-winning cut of Skywalker Kush. Expect to see good yields with strong medicinal effects. Lemon Walker is great for stimulating appetites as well as helping with concentration and focus problems. Lemon Walker grows to a moderate height and produces large buds even on the bottom branches. Flower times will be in the 8-9 week range with lemon citrus scented flowers that have major Kush over tones. Grows like Lemon skunk, tastes like Skywalker, and smells of Lemon Concentrate Kush!
R.K.S.: If you're looking for that stinky, sticky green that smells like a skunk, this would be the strain for you. High calyx to leaf ratio and good yields makes the R.K.S. the perfect plant to grow indoors or out. She will finish in the first week of October outside, and if this strain is grown inside, good carbon filtration is a must because she will stink. She's got a great old school flavor with a high that is up and very strong.
Sharksbreath: Along with an amazing flavor and smell, she is easy to grow. The Sharksbreath is a highly potent, top-notch weed and a connoisseurs delight. Short, stout plants pack on frosty and very dense colas. Feed her heavy and provide good airflow to prevent bud rot. She is best grown in a Sea of Green. This plant has been called the "cash crop" plant, yielding well above average! She is a good plant to breed with as she's very stable and has proven herself as the mother to the Martian Mean Green! 2nd Hydro Spannabis 2009
White Alien: White Alien is a F1 hybrid cross of our Cannabis Cup Sativa Champion 2005 Martian Mean Green and the classic original White Widow. Great yields and frosty resin covered buds are easy to get from White Alien and beginners love this strain! The expert grower can really push her and maximize the yields as White Alien can handle heavy nutrients and will be forgiving to minor mistakes. This is your test strain the strain you can pay with to fine tune your skills. Expect shorter flowering plants that frost out early in flower. Large dense buds provide heavy yields and the leaf to bud ratio is so low that trimming time is shortened significantly. White Alien is a sativa dominate hybrid that can be used at night or in the evening and not keep you awake. The strength is intense for a sativa dominate hybrid and often just gets labeled a indica… The genetics are what they are 60% sativa and 40% indica but the effects are more like 70% indica and 30% sativa… FYI.
White Walker Kush: This cross brings a Historic Strain to the New School. We took the Ingemar cut of White Widow that has been kept alive in the mother room since 1988 in Holland. Together with our super strong Skywalker Kush cut from California we have made this legendary cross! Expect to see super frosty flowers and large yields of resin that makes this the perfect plant for all growers and "extract artists"! White Walker Kush grows fast in the vegetive stage, and explodes after she is flipped into 12/12! The Skywalker being one of our largest yielding "Kush" varieties and our Ingemar cutting of White Widow also a huge yielder make White Walker Kush an above average plant in the end weight department. Commercial Kush has arrived with a proper selection you can find the Skywalker Kush flavor with the bud structure and overall weight of the White Widow! Selection time on this f1 hybrid makes the choice all yours