Sweet Seeds: 10 years anniversary celebration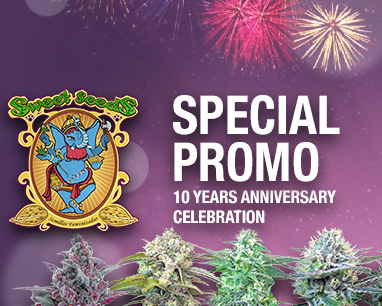 One of the best spanish seeds banks celebrates its tenth anniversary. Don't miss free seeds from Sweet Seeds , such promo happens once in ten years.
You buy 3 seeds and get +1 seed of the same strain.
You buy 5 seeds and get +2 seed of the same strain.
The promo involves all the hits and news of Sweet Seeds
Auto Ice Cool, Big Devil Fast Version, Cream Mandarine Fast Version, Killer Kush Fast Version.
Auto Black Jack, Jack 47 Auto, Cream Caramel Auto, Auto Bloody Skunk, Auto Sweet Trainwreck, Big Devil #2, Big Devil XL, Black Cream Auto, Cream Mandarine Auto, Dark Devil Auto, Devil Cream Auto, Fast Bud, Fast Bud #2, Flash Back #2, Green Poison Auto, Mohan Ram Auto, Red Poison Auto, S.A.D Auto, + Speed Auto, Speed Devil #2, Sweet Cheese Auto, Sweet Skunk Auto, Sweet Special Auto,
Big Devil Fast Version, Black Jack Fast Version, Cream Caramel Fast Version, Jack 47 Fast Version, S.A.D. Fast Version, Sweet Cheese Fast Version, Sweet Skunk Fast Version, Sweet Special Fast Version.
Jack 47, Big Foot, Black Jack, Botafumeiros, Cream 47, Cream Caramel, Double White, Ganesh Spirit, Green Poison, Ice Cool, Mohan Ram, Psicodelicia, S.A.D s1, Snow Fruit, Sweet Cheese, Sweet Tai, Wild Rose.
Mix #1, Mix #2, Mix #5, Mix AUTO 2ª GENERACIÓN, Mix AUTO + RÁPIDAS, Mix BIG DEVIL, Mix CREAM CARAMEL, Mix DE JACKS, Mix GRANDES MONSTRUOS RESINOSOS, Mix GREEN POISON, Mix SWEET CHEESE, Mix TALLAS GRANDES, Sweet Mix Auto.